The Ironmen of 1939 might go down as the greatest team in Iowa Football History. Dr. Eddie Anderson did an amazing job in his first year coaching the University of Iowa football squad and led them to heights no-one expected. This created a buzz not only in Iowa City, but around the Nation. One of Iowa's greatest players, Nile Kinnick, won many awards, including the Heisman trophy. The stadium was named Kinnick stadium in 1972. Other greats that played for the 1939 Ironmen team were captain Erwin Prasse, Mike Enich, Al Couppee, William Green, William Diehl, Dick Evans, Buzz Dean, and many others.

1939 Des Moines Register Newspaper Team Photo
Below is the pocket schedule for 1939 and all the programs & ticket stubs from that memorable year, including the Very RARE Second Edition Minnesota homecoming program that you will see at the bottom. The University must have ran out of programs for that game.. and had to use the Indiana game cover because it has a black stamp overlay on the teams and date. It also says "First Edition Sold Out, except front cover, this second printing is identical to the first." You will also see I have 2 FULL Tickets to games in that 1939 Season. One FULL ticket is to one of the greatest games in Hawkeye history, the 1939 Notre Dame vs. Iowa game that ended in a 7-6 score. The other FULL ticket is to the Homecoming game against Minnesota. These full tickets are very RARE! I have also been able to find three alternate type (student, child, etc.) ticket stubs for 3 away games in which I have never seen before, which is neat. The only stub I am missing is the South Dakota stub, in which nobody has seen. I feel very fortunate to have all of these in my collection.
1939 Season Pocket Schedule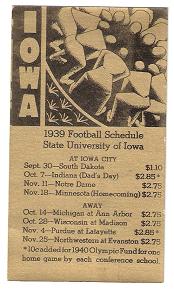 39 South Dakota Program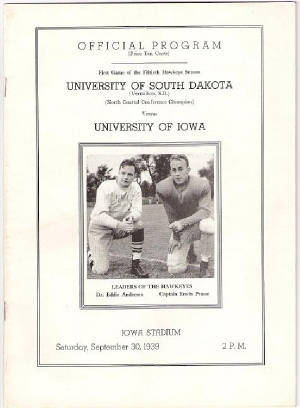 39 Indiana Program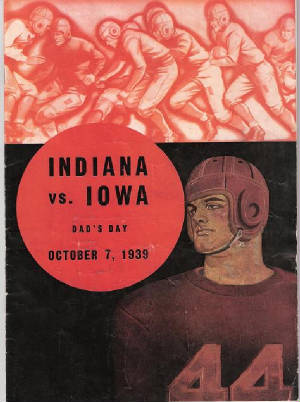 39 Indiana Ticket Stub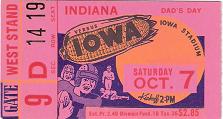 ___________________________________________________________________
39 Michigan Program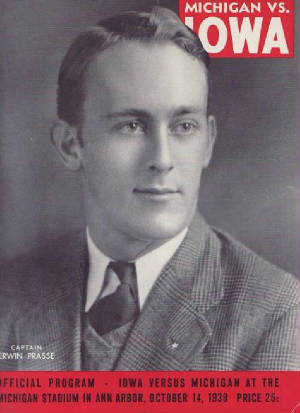 39 Wisconsin Program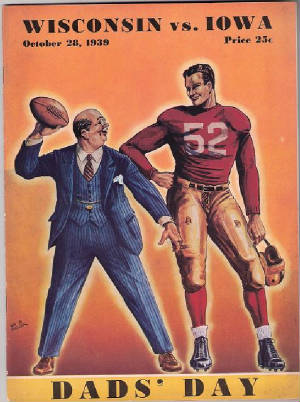 39 Michigan Ticket Stub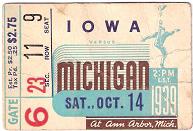 39 Wisconsin Ticket Stub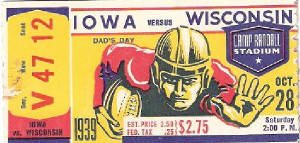 39 Michigan Temp Stand Ticket Stub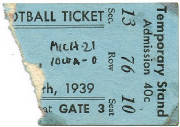 39 Wisconsin Child Ticket Stub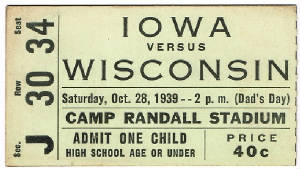 ___________________________________________________________________
39 Purdue Program
39 Notre Dame Program
39 Notre Dame Ticket Stub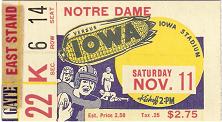 39 Purdue Ticket Stub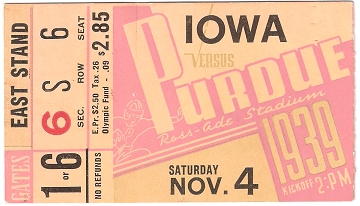 39 Purdue Student Ticket Stub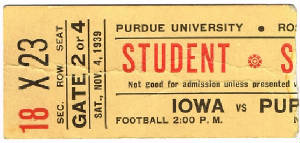 Notre Dame vs. Iowa game FULL Ticket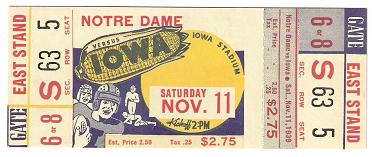 ___________________________________________________________________
39 Minnesota Program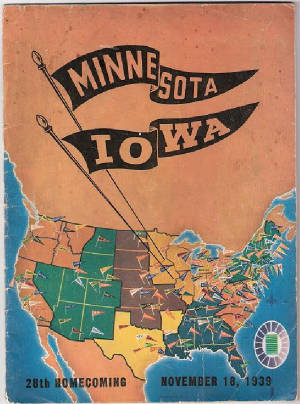 39 Northwestern Program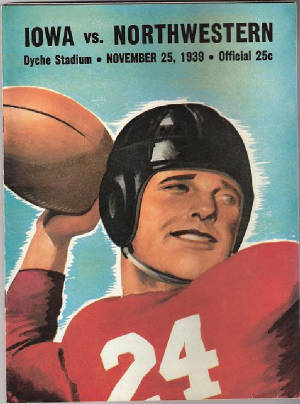 39 Minnesota Ticket Stub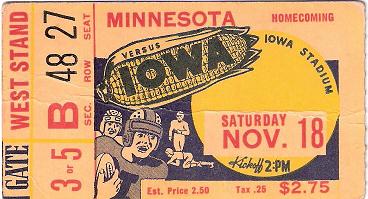 39 Northwestern Ticket Stub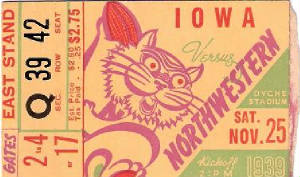 ___________________________________________________________________
39 Second Edition Minnesota Program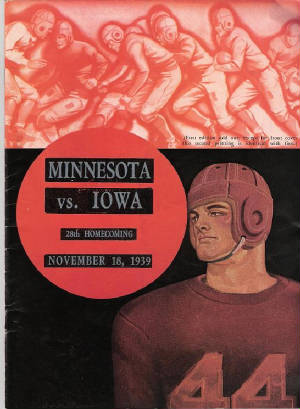 ________________________________________________________________