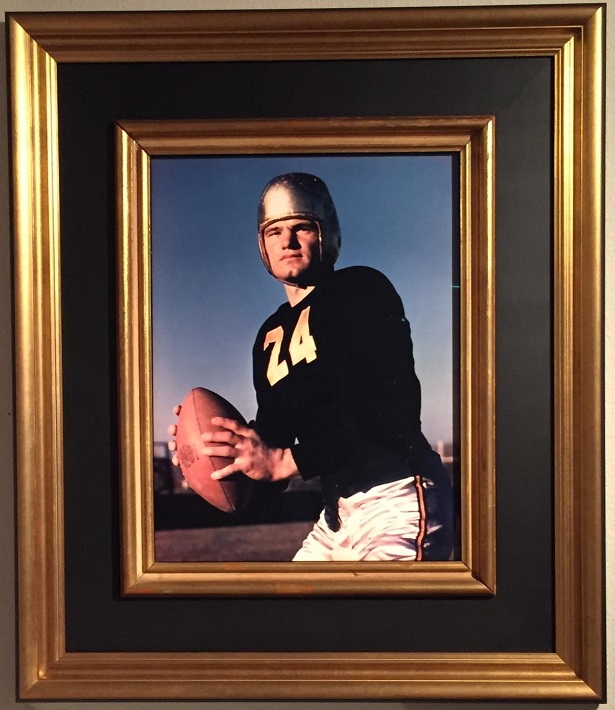 Above is one of my most prized pieces. Its an original photograph of Nile Kinnick in his famous football pose, once owned by the 1939 Head Coach Eddie Anderson. Three of these originals were printed around 1939 by the famous Iowa photographer Fred Kent.

Anderson's son writes in a letter: "My father gave me this picture many years ago. He said that only three were ever made and that one was given to the University, one to Kinnick, and one to my father, Dr. Eddie Anderson." He also writes: "Apparently the process that the picture was made under was quite unique for its day along with other things concerning it."

If you watch the video below done by the University in 1944, you will see they used one of these prints. The frame immediately surrounding my photo is original and is the exact same as whats in the video. I added the outside frame to make it more displayable.
1944 Nile Kinnick tribute video
Amazing Nile Kinnick Letter
Above is a letter from Nile Kinnick responding to a thirteen year old admirer. What makes this letter so RARE and amazing is the content. He gave this young boy advice on how to become a better football player. This is the nicest letter I've seen.
Below is the original letter that the thirteen yearl old sent Nile. It's hard not to smile after reading it.
Original Letter from 13 year old boy
Below is an amazing collectible. This is a table decoration (Leaf) from a high school athletic banquet at West Branch high school on November 18, 1941. What makes this piece so amazing is that it is not only signed by Nile Kinnick, but by the great Duke Slater as well. These two autographs are not only the rarest Iowa autographs out there, but to have them both on one piece is simply amazing! Duke played in 1921 and Nile played in 1939, so for them to be together and sign something is very rare. Below that is the original ticket stub to the athletic banquet that night.
Leaf autographed by Nile Kinnick and Duke Slater!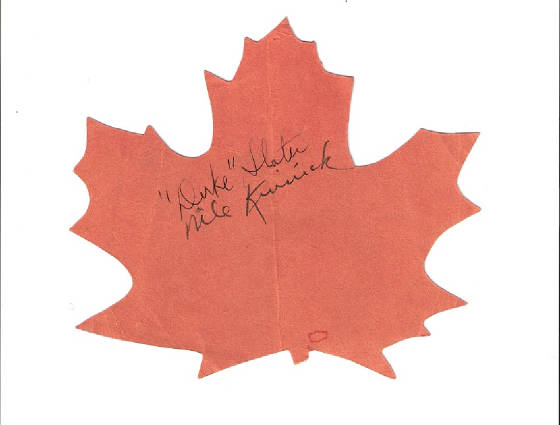 Original ticket to athletic banquet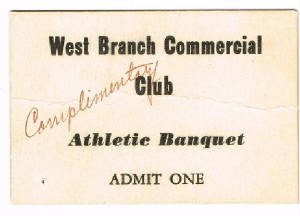 Below are a couple of my favorite collectibles. They are two Nile Kinnick bronze statues (some refer to them as Bookends). One has the schedule and the scores of 1939 on the base. The other has just IOWA. These are SUPER rare and I've heard many stories about their existence. Some say they were given to just the players/coaches of that 1939 team, others say they went to donors, and I've also heard the public could buy them. I still haven't narrowed it down, but with the rarity that you see them, I would guess you had to be connected to the program in some way to get your hands on one/both of them.
Close-up of Kinnick Statue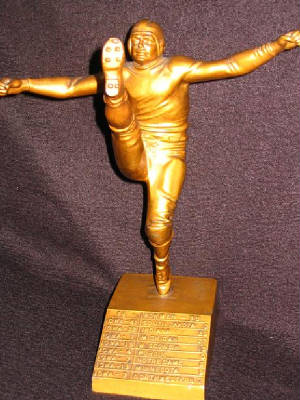 Original Newspaper with Statue Article
Made with 1939 Schedule and other with IOWA base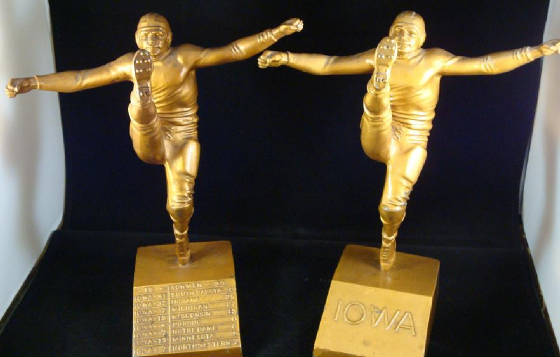 Below is a basketball program from February 12th, 1940 that was for Nile Kinnick night at the old Field House. Nile was honored by the Chicago Tribune and given the Big Ten's most valuable player trophy, the Silver Football Award. Very rare and cool piece.
1940 Basketball Program for Nile Kinnick Night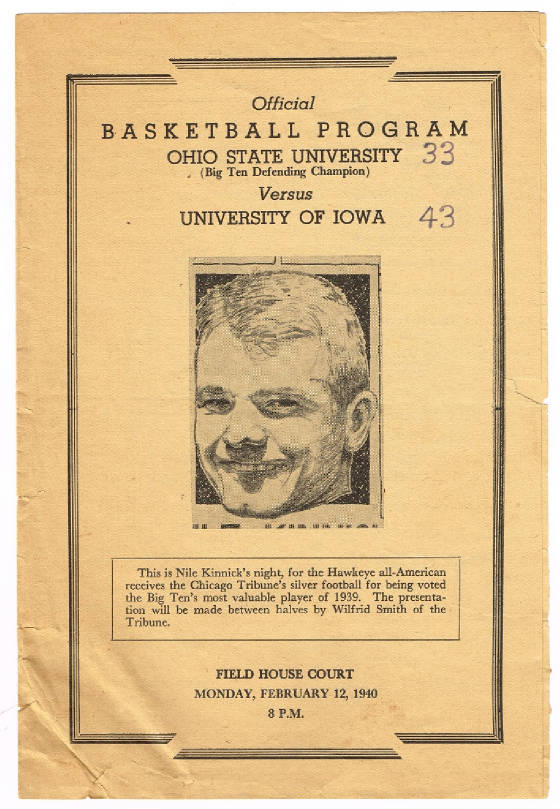 Below are a couple other very neat and rare pieces. The first one is an official Big Ten Coin. Kinnick's face is on the coin of every coin toss in the Big Ten. These are impossible to find as you had to be a Ref or Captain to obtain these. The second piece is an autographed Bob Feller baseball. Nile Kinnick was the catcher for Bob Feller when they were young on an American Legion Junior Baseball Team back in 1931-1932. I had Bob sign a one of a kind black and gold baseball with the slogan "Nile Kinnick was my catcher in 1931-1932". RIP Bob.
Official Big Ten Coin w/ Nile Kinnick as head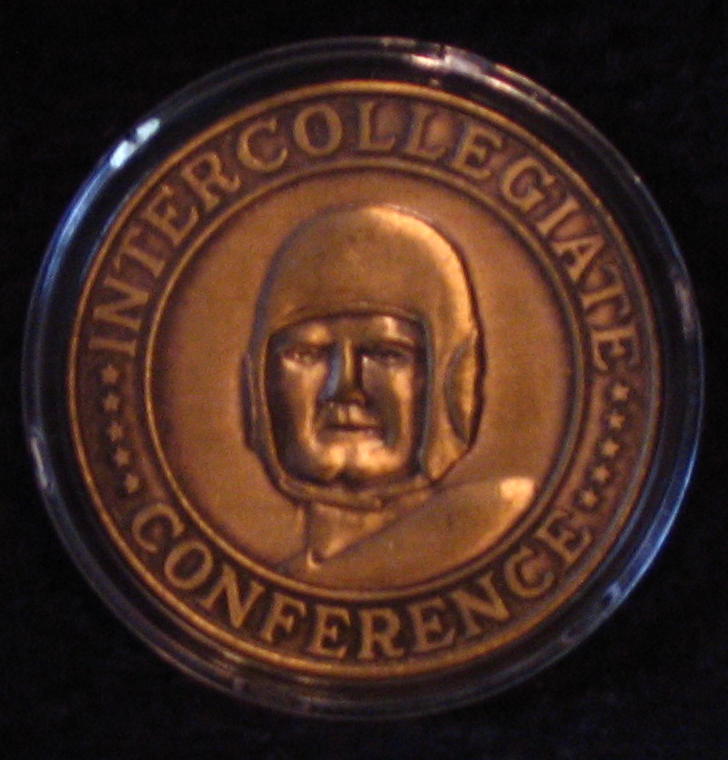 Bob Feller Autographed Baseball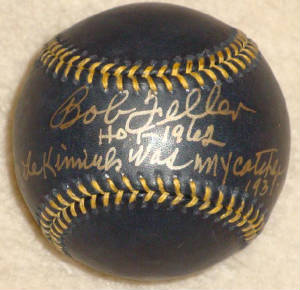 75th Anniversary replica Kinnick Jersey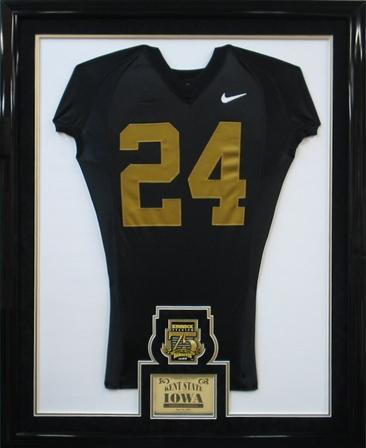 Nile Kinnick Replica Heisman Trophy