These are some very RARE items I had in my posession at one time. I have either sold these items or traded them to other collectors.
This is a piece of drywall I purchased from the University of Iowa when they renovated Kinnick Stadium back in 2004. This was a Hayden Fry slogan that he implemented when he became coach at Iowa. It is said that five sections of drywall with this slogan were installed throughout the locker-room as motivation for the team. The tradition still continues today.
Drywall From Locker-room
Picture of Locker-room before renovation
Below are some amazing items that I once had in my collection from the 1921 Iowa Football team. They are irreplaceable!
1921 Iowa Program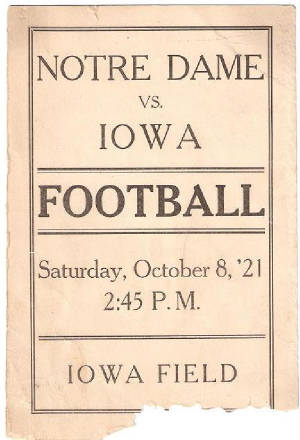 1921 Iowa Illinios Homecoming Program
Gordon Locke Autographed Letter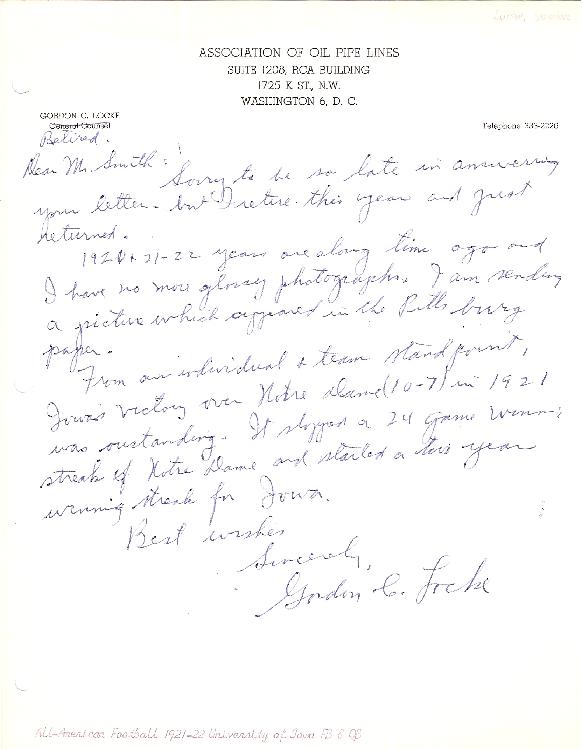 Duke Slater Autographed Book
Below is a 1958/1959 Big Ten Champions Rose Bowl autographed football. This is an amazing Football that was once owned by the great entertainer Bob Hope. I bought this at his estate sale and have confirmed that the Iowa Team gave him this football at the Big Ten Banquet when Iowa traveled to the Rose Bowl that year. It is autographed by great players such as Bobby Jeter, Randy Duncan, Willie Fleming, etc. It also has the autographs of coaches Forest Evashevski, Jerry Burns, Jerry Hilgenberg, among others.
1958/1959 Big Ten-Rose Bowl Autographed Football
Dick Crayne Autograph - 1st Iowan Drafted to NFL
Dick Crayne Photo
G W Clarke - Governor of Iowa Autograph
G W Clarke - Nile Kinnicks Grandfather
1960 Backfield Signed Index Card
Game used Iowa Football with Evy signature
1963 Notre Dame vs Iowa Game Program
1963 Notre Dame vs Iowa Ticket
John F. Kennedy, the 35th President of the United States, was assassinated at Dealey Plaza in Dallas, Texas on November 22, 1963. Many public events were canceled following the assassination, including the University of Iowa's scheduled football game with Notre Dame in Iowa City the following day. Some notables on the Hawkeyes' 1963 roster included Gary Snook, Wally Hilgenberg, Paul Krause and Mike Reilly.
Above are a couple VERY RARE items from that game that I sold. The game was never played, so therefore nobody went to the stadium and game programs weren't handed out. The only ones who got a game program from that game were individuals who were a part of the media, etc and they received them probably by mail before the game. It sounds like only a small amount of these even exist. Also, any ticket from this game is rare because the University instructed people to send their tickets in for a refund. Most people did. Those that kept them are few and far between.
Chris Street Autographed Poster
Left: A Very RARE 1922 Homecoming Paper badge that I found in an Old Scrapbook. I didn't know it was in the scrapbook until I got it in the mail.
1922 Homecoming Badge