Original Life Size Photograph of Aubrey Devine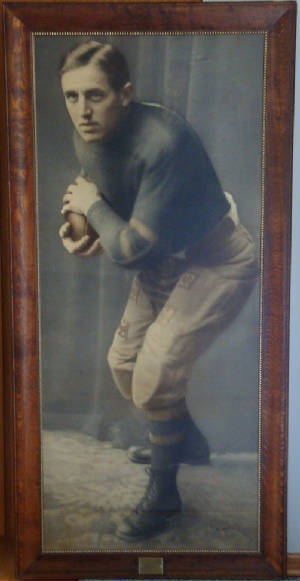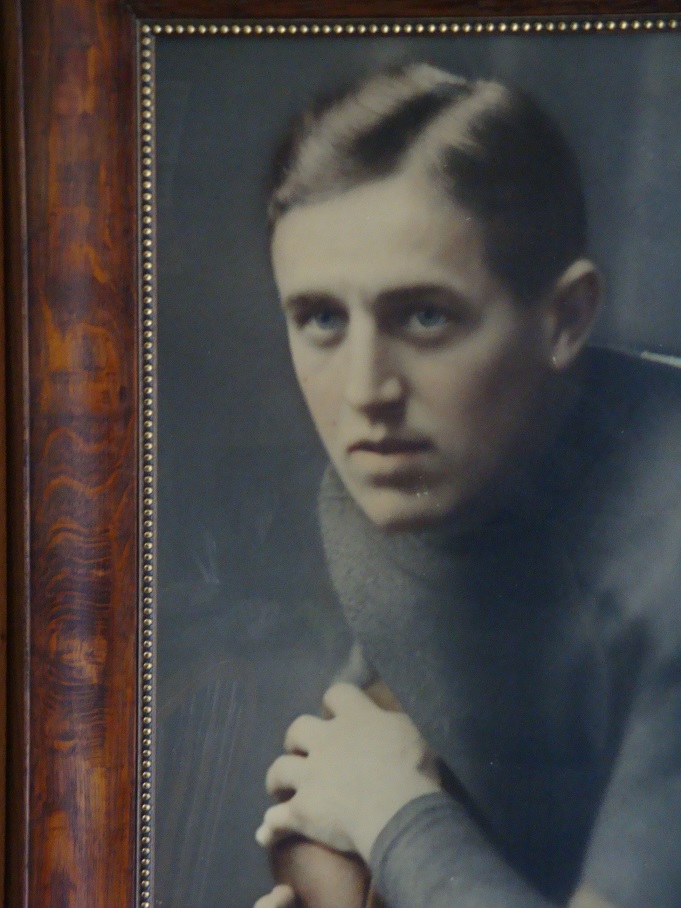 Above is an original life-size photograph of the great Aubrey Devine. The piece was done in 1921 by Townsend Photography in Iowa City and was presented to Aubrey's parents at the half-time of the Iowa Indiana game that year. What makes this piece SO VERY SPECIAL is that there is video of this presentation. Click on the link below and if you want to fast forward to 3:42 in the film, you will see the presentation. I also found a newspaper article from the Daily Iowan the day after the game that discusses the piece.
Enjoy!

Click here for the presentation video!
Newspaper Article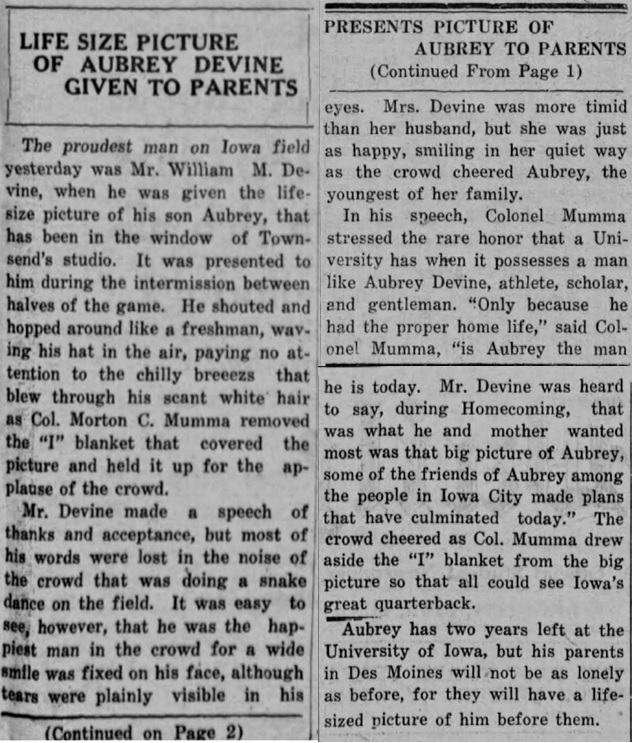 1921 Iowa vs Indiana Game Program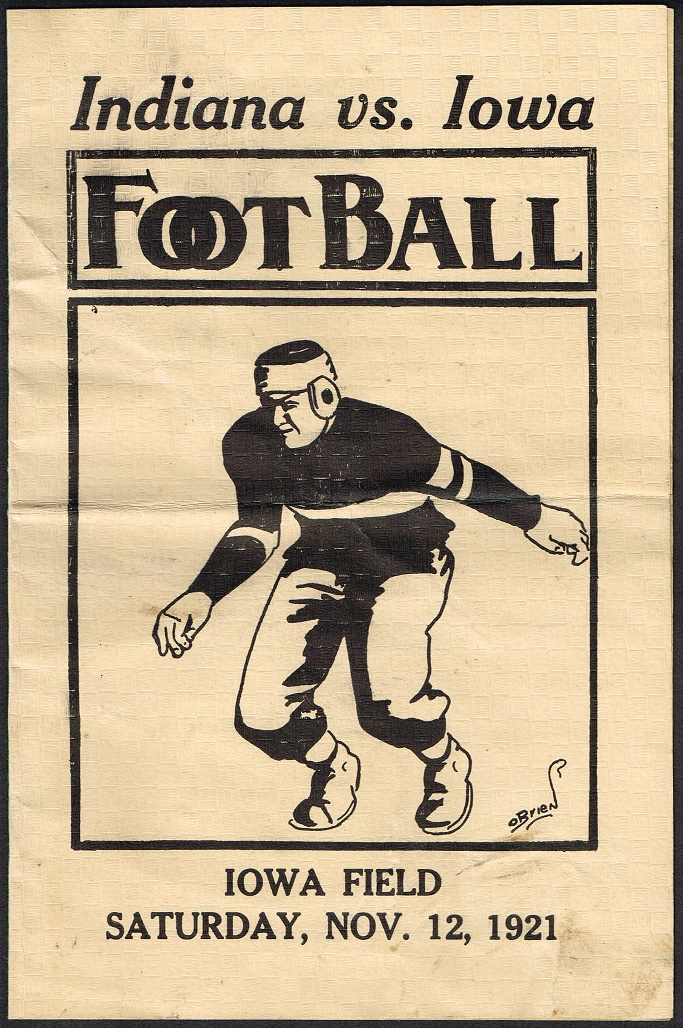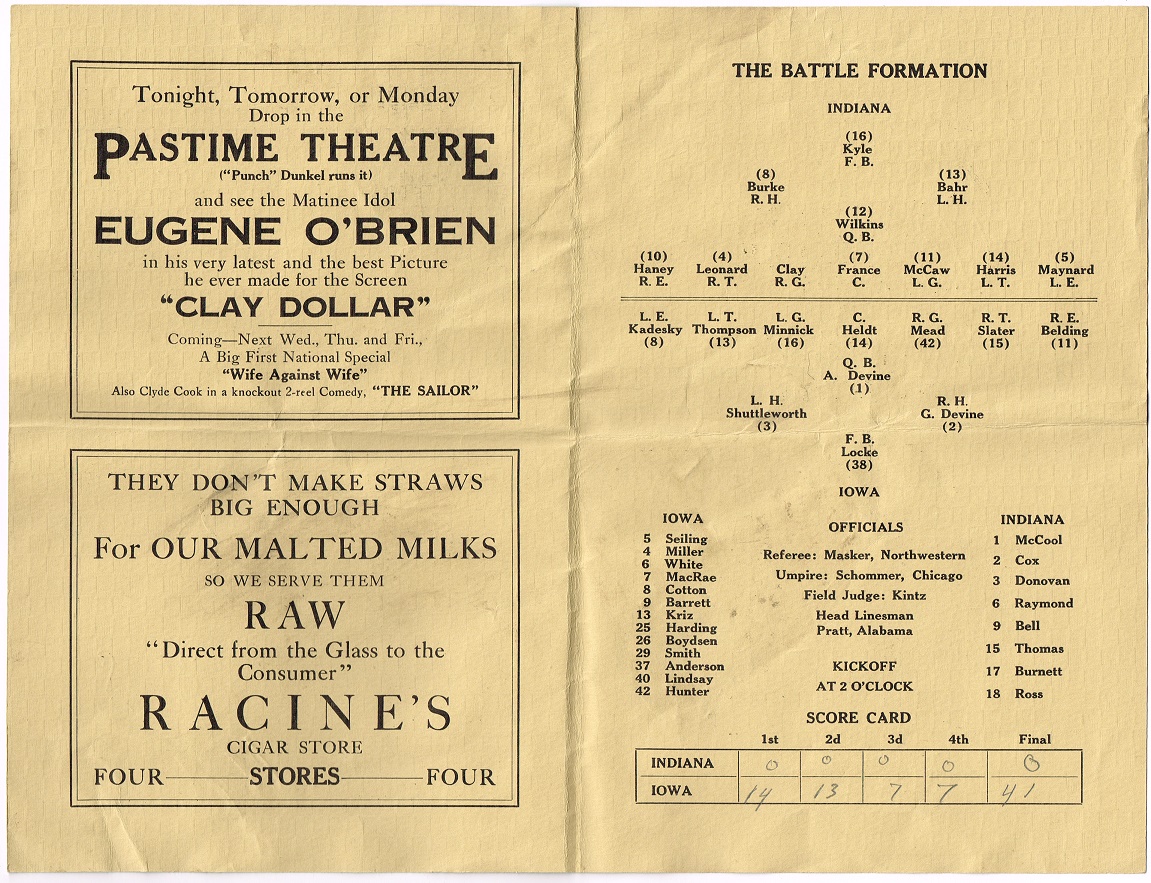 Below is a 14k Gold 1921 University of Iowa Western & Big Ten Conference Champions Football Charm. I was lucky enough to find a newspaper article in the Daily Iowan archives from the athletic banquet after that great season of 1921, and it explains this football charm. Please check it out! This charm would have belonged to Howard H Jones, head coach of that 21 squad and one of the greatest coaches of Iowa Football history. It has his name engraved on the back, along with the year . Amazing Find!

1921 Western & Big Ten Conference Charm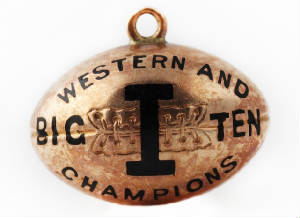 Engraved H.H. Jones Coach 1921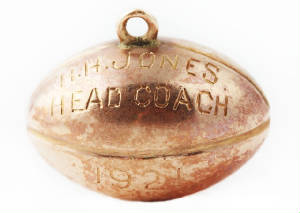 Newspaper Article

Howard Jones Autographed Piece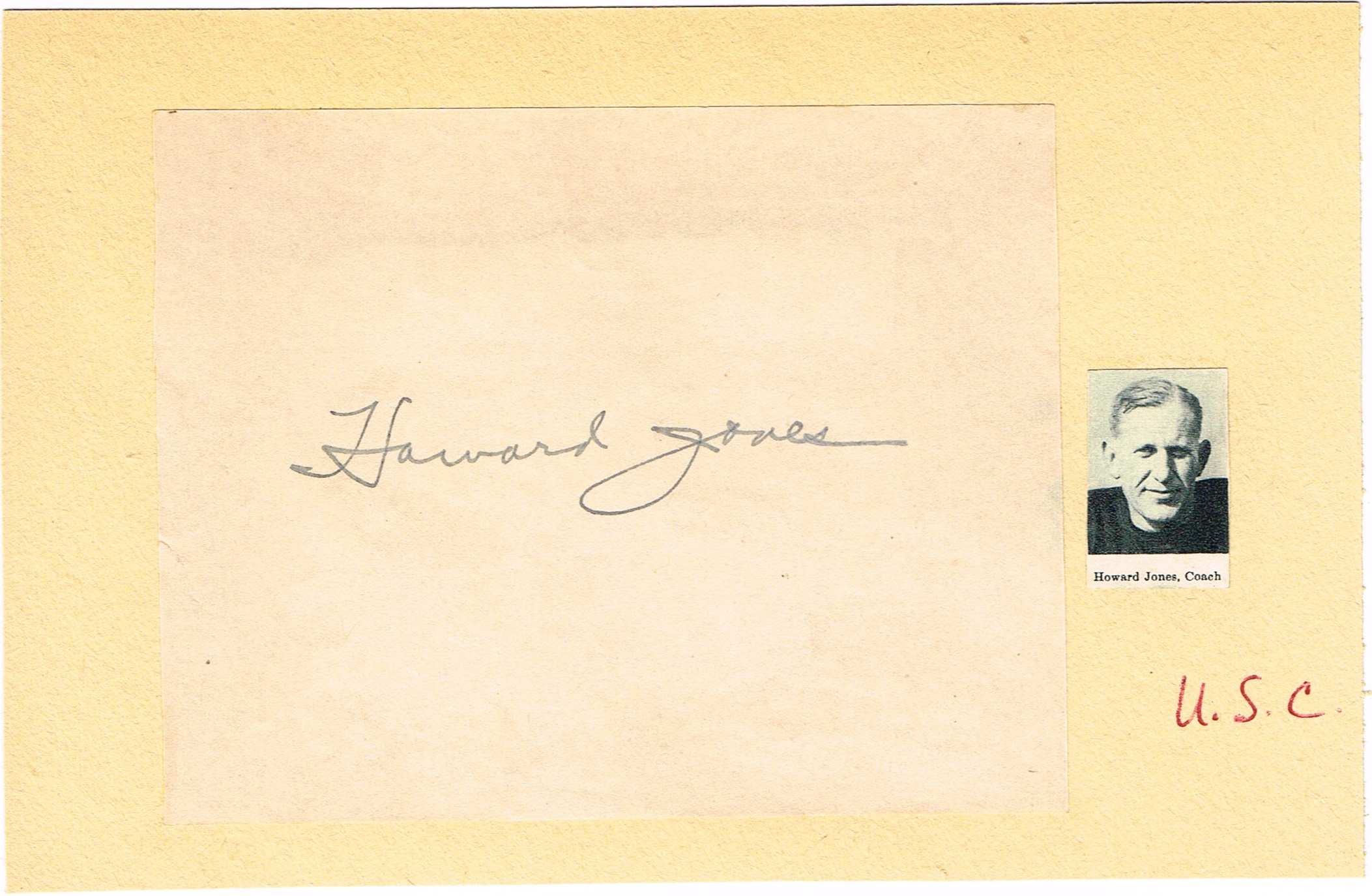 Below are two VERY RARE items, including not only the ticket stub to the 1921 Notre Dame vs Iowa game game, but the program as well. Iowa won the game 10-7 on a touchdown run from Gordon Locke, which snapped a 24 game winning streak by Knute Rockne and the Notre Dame fighting Irish. Everyone talks about the 1939 Notre Dame game with Nile Kinnick's touchdown run, but this one was probably more important. I have never seen another one of these stubs or programs!
1921 Iowa Notre Dame Ticket Stub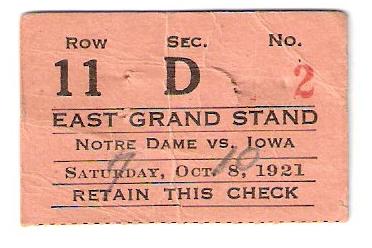 1921 Iowa Notre Dame Program Cover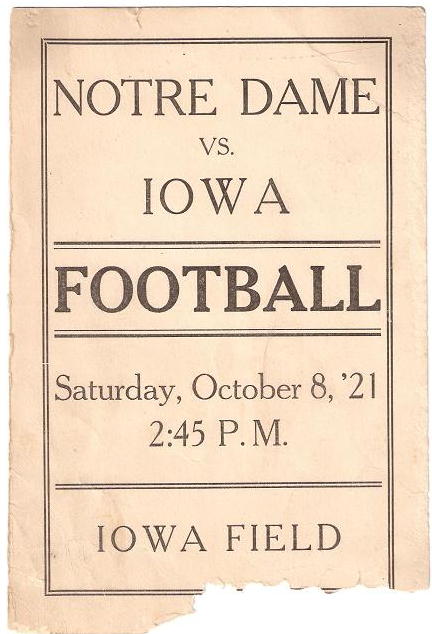 1921 Iowa Notre Dame Roster Page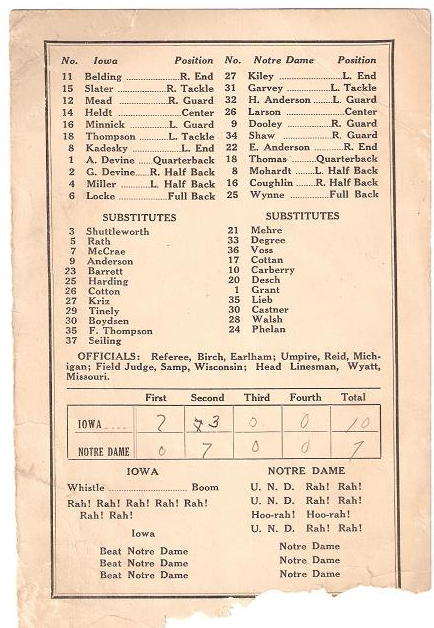 1921 Iowa ND Back Cover (See Crowd Pic Below)
Man looking at 21 program (lower right)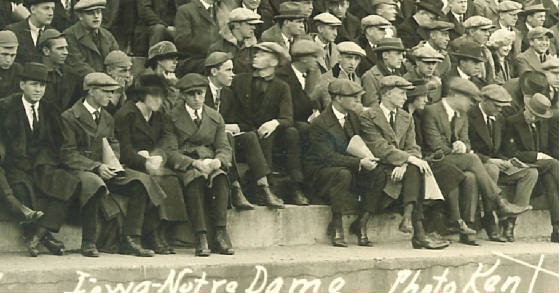 Picture of run in 1921 ND vs Iowa game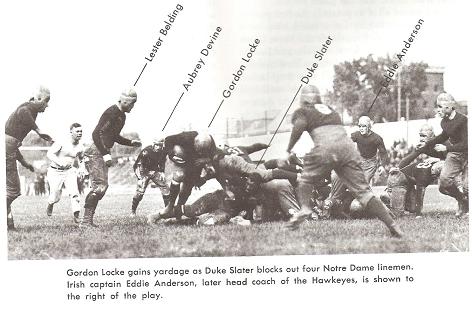 Below is an amazing piece from one of the greatest players of that 1921 squad, "Duke" Slater. He autographed this sheet inside an autograph album and wrote a very cool inscription. A true one-of-a kind type collectible.
Below that is autographed personal letter from Gordon Locke. The content of this letter is also great as he talks about "Iowa's victory over Notre Dame (10-7) in 1921 was outstanding. It stopped a 24 game winning streak for Notre Dame and started a two year winning streak for Iowa."
Duke Slater Autograph - Amazing Content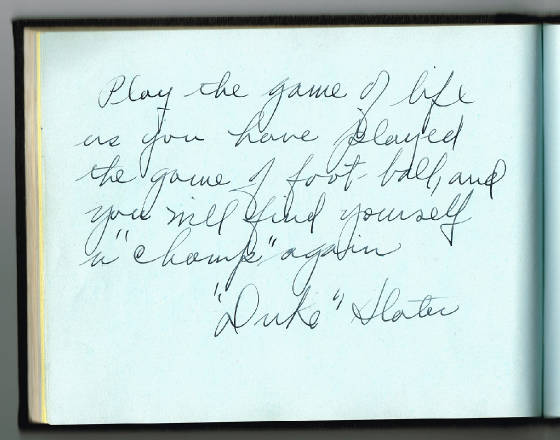 Gordon Locke Autographed Letter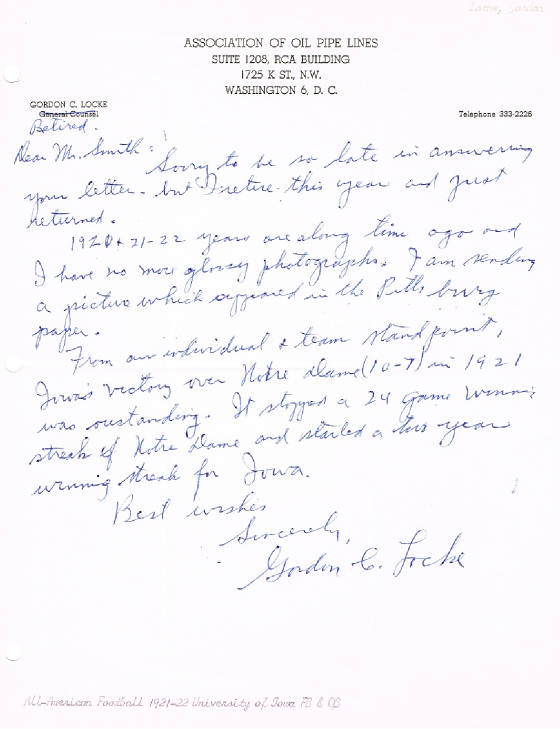 Below are other autographs from players on that 1921 Football Team.
Aubrey Devine Autograph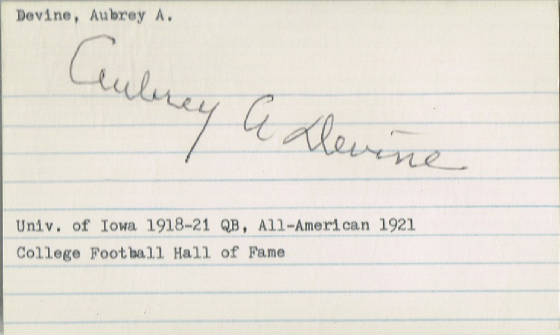 Besides the 1921 Iowa Notre Dame game, there is one other game that stands out during that magnificant 2 year stretch of football. That is the 1922 Iowa Yale game. Yale was riding an eleven game winning streak at the Yale Bowl and had NEVER lost to a team from the west in its 50 year football history. Iowa won the game 6-0 and thousands of people not only greeted the hawkeye squad when they arrived at the train station, but had huge celebrations that included crowds dancing around bon fires.
Below is a very rare 1922 Iowa Yale football program and a couple postcards from the crowds. Very neat original items!
1922 Iowa Yale Program
1922 Iowa Yale Program back
1922 Iowa Yale Postcards. (Bon Fire, Team Arrival)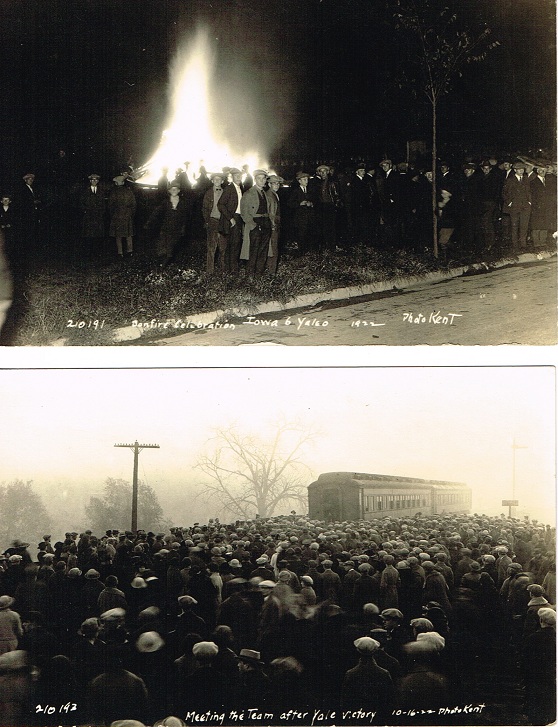 Main Street Yale Victory Celebratition Postcard