Below is a RARE program to the very first game held in Iowa Stadium (later named Kinnick Stadium in 1972) on October 6th, 1929. Most people don't know that this was actually the first game played in the stadium and the dedication game would be a couple weeks after. This thing is so neat because it was only a single sheet of paper that had the rosters of each team. Not too many of these made it out and have lasted this long. I have only ever seen one other. Iowa beat Monmouth that day 46-0 and Willis Glasgow scored the first touchdown in the new stadium.
Below that is the ticket stub and game program to the official dedication game in 1929. Iowa tied Illinois that day 7-7.
1929 Monmouth vs. Iowa Football Program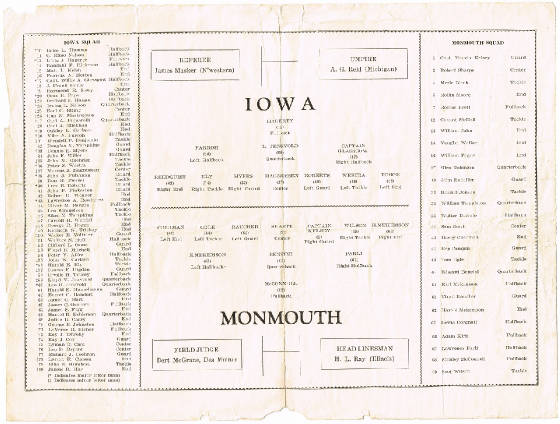 1929 Dedication Game Ticket Stub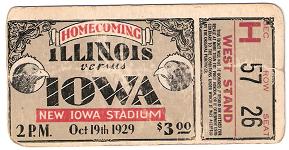 1929 Dedication Game Program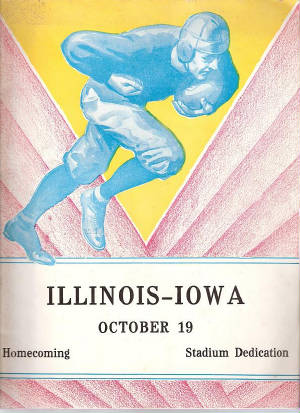 The program you see below is a very RARE autographed 1997 Sun Bowl banquet program. What makes this so rare is it has the autograph of Pat Tillman, from Arizona State, who Iowa played in that bowl game. Pat died at a very young age, similar to that of Nile Kinnick, and his autographs are few and far between, and very pricey. Nile and Pat both lost their lives serving our great country. I also had Tim Dwight sign this great item as he played against Pat in this game.
Pat Tillman Autographed Program
I sent a pair of white Sans-a-belt pants to Hayden Fry for him to autograph. They look just like the ones he used to wear on the field.
Hayden Fry autographed replica white pants